Welcome Minted Empire Friends!
Glad you found your way here to get your topical authority moving with topical maps!

Topical Authority Made Simple
Learn the Secrets to Create Topical Maps and Establish Topical Authority.
Do you want higher search engine rankings?
Do you want higher engagement and conversions?
Do you want to be seen as an expert in your field?
Do you want to stop guessing what topics to cover?
Do you want a better chance of outranking sites with more backlinks?
Topical Maps Unlocked is an A to Z course.
32 Video Lessons + Templates + Private Community
Learn to create and use topical maps to supercharge SEO and traffic.
Hey there! I'm Yoyao
…your humble guide on this exciting journey to unlock the mysteries of topical maps and take your websites to the next level.
I know, I know, the world of SEO can seem a bit overwhelming at first, but don't worry, I'm here to make it as simple as possible for you.
Now, you may be thinking, "Who is this Yoyao guy, and why should I listen to him?" Well, I'm just a regular guy with a passion for SEO and a knack for making complex concepts easy to understand.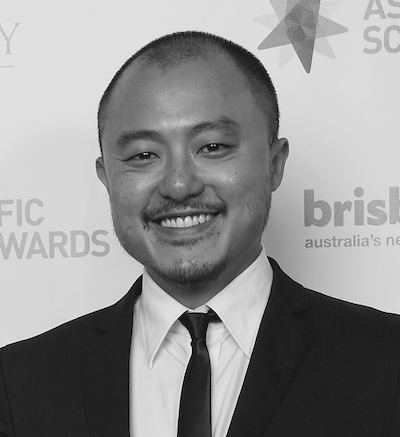 When it comes to topical authority and topical maps, many people love to talk about "entities, entity SEO, semantics, semantic search, semantic SEO, natural language processing (NLP), patents" and many more technical terms to sound smart. I mention each of them once in my course because there's no reason to overcomplicate the topical map process when we just want to learn how to create a kick-ass topical map.
I've been around the SEO block a few times and have helped numerous businesses and website owners achieve top rankings and high traffic traffic. In fact, a number of small to medium-sized SEO agencies come to me looking for a great topical map to accelerate their client's content strategies.
I love to help others grow and succeed. I started the free weekly Niche Surfer newsletter two years ago to help thousands stay up to date on the latest SEO and niche site tips, news, and guides.
So, buckle up and get ready to learn the secrets of creating a winning topical map. With my help, you'll be able to boost your SEO game, outshine your competition, and leave your mark on the world of search engine optimization. Let's get started!


Topical Maps Unlocked is suitable for individuals of all levels, from beginners to experienced professionals, and provides a comprehensive overview of how to create effective topical maps to boost SEO and drive traffic to a website.
With a good topical coverage and quality content, you can achieve results quickly.

3.5 months
2 silos
68 articles
47,000+ pageviews/month

4.5 months
1 silos
37 articles
1,500+ pageviews/month
Topical Map to SEO Success
Don't be fooled by low-priced topical map services that give you a list of keyword clusters spit out by a tool and/or skeleton mind maps that cover 5% of full topical coverage.
A topical map is a visual representation of all the main topics, subtopics, and supporting content within your niche and industry.
It allows you to clearly outline the scope and depth of your knowledge and expertise, and helps you organize and present your content in a logical and easily digestible way.
This course is designed to help you establish your site as a topical authority by creating and using a comprehensive topical map.
Throughout the course, you'll learn how to research, organize, and present content to showcase your expertise and builds credibility to users and search engines.
Topical maps are BOTH a spreadsheet and mind map.
Who needs topical maps?
If you only use low-competition keywords – your site won't last long.
Are you tired of mediocre results from your website's SEO efforts? Do you struggle to keep up with the ever-changing landscape of digital marketing?
Then you need a topical map.
Using low-competition keywords to drive your content strategy is like throwing everything at the wall to see what sticks. Without any authority, your site will be easily outranked once a more authoritative site steals those keywords from you.
Say goodbye to aimlessly throwing content at your website, and say hello to a strategic, organized approach that delivers results.
Unlock the power of topical maps and skyrocket your website's visibility and traffic with Topical Maps Unlocked.
Whether you're a beginner or a seasoned pro, this course is designed to meet your needs and help you achieve the SEO results you've always dreamed of.
SEO Professionals
Digital Marketers
Niche Site Builders
Website Owners
Content Creators
Entrepreneurs
Not only will you learn the key concepts of topical authority, but you'll also get hands-on training in researching and gathering keywords, analyzing your competition, creating a site architecture and content plan, and tracking your success.
So why settle for average when you can be a standout in the world of SEO? Enroll in Topical Maps Unlocked now and transform your website into a powerhouse that attracts traffic and delivers success.
Establish Topical Authority with Topical Maps Unlocked
Course Benefits and Outcomes
Purchasing this course gives you LIFETIME ACCESS to the course, new video updates, and private community.
No annual costs for continued access! You already paid for the course, you should always have access to it, any updates to it, and be able to talk with other students!
Learn how to craft a topical map and take your website and SEO skills to new heights. Finish the course and with the knowledge, you'll be able to:
Learn how to create, optimize, and use a winning topical map.
Learn how to create a comprehensive and organized topical structure for your SEO strategy.
The secret sauce to identifying the most important topics in your industry for SEO.
Discover how to use your topical map to improve site architecture.
Get a hands-on approach to topic and keyword research and analysis.
Transform your topical map into a powerhouse content plan for months.
Master the art of internal linking and anchor text management.
Learn how to create a topical map for existing sites.
Improve the visibility of your online content.
Stay ahead of the curve in the rapidly changing world of SEO
And much, much more!
Don't miss this opportunity to master the art of topical mapping and take your content and SEO to the next level. Sign up for Topical Maps Unlocked today!
What's in the Course
Learn how to craft a topical map and take your website and SEO skills to new heights. Finish the course and with the knowledge, you'll be able to:
These in-depth video lessons are packed with presentations and over-the-shoulder videos, so you can follow along and learn at your own pace.
You can watch and re-watch these lessons as many times as you need to fully understand the concepts and techniques.
Whether you're a beginner or an experienced marketer, the step-by-step lessons will guide you through the entire process of creating, optimizing, and using a high-impact topical map.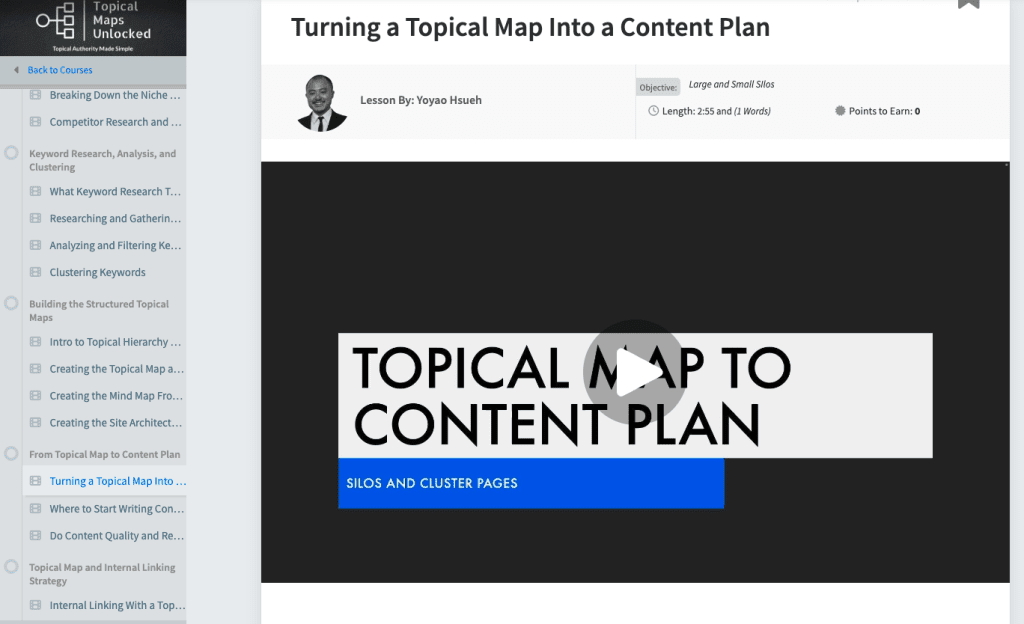 01 Welcome to Topical Maps Unlocked!
02 How to Join the Private Group
03 Overview of the Tools We Will Use
04 New Site vs Existing Site Approaches
05 What Is Topical Authority and Why is It Important for SEO?
06 What is the Topical Authority Approach?
07 What is a Topical Map?
08 How to Read a Topical Map
09 Topical Maps + Site Architecture, Internal Links, and Anchor Text
10 Examples of Sites With Good Topical Maps and Authority
11 Choosing a Niche and Starting Point
12 Breaking Down the Niche With the Template
13 Competitor Research and Analysis Using the Tool
14 What Keyword Research Tools to Use
15 Researching and Gathering Keywords
16 Analyzing and Filtering Keywords
17 Clustering Keywords
18 Intro to Topical Hierarchy and Site Architecture
19 Creating the Topical Map and Hierarchy
20 Creating the Mind Map From the Spreadsheet
21 Creating the Site Architecture in WordPress
22 Turning a Topical Map Into a Content Plan
23 Where to Start Writing Content
24 Do Content Quality and Relevance Matter?
25 Internal Linking With a Topical Map
26 Managing Your Anchor Text
27 Keeping the Topical Map and Content Plan Up to Date
28 Tracking and Measuring Results
29 Creating a Topical Map for an Existing Site
30 Cannibalization, Pruning, and Updating Content
31 Putting It All Together
32 Class-Selected Niche – Topical Map Example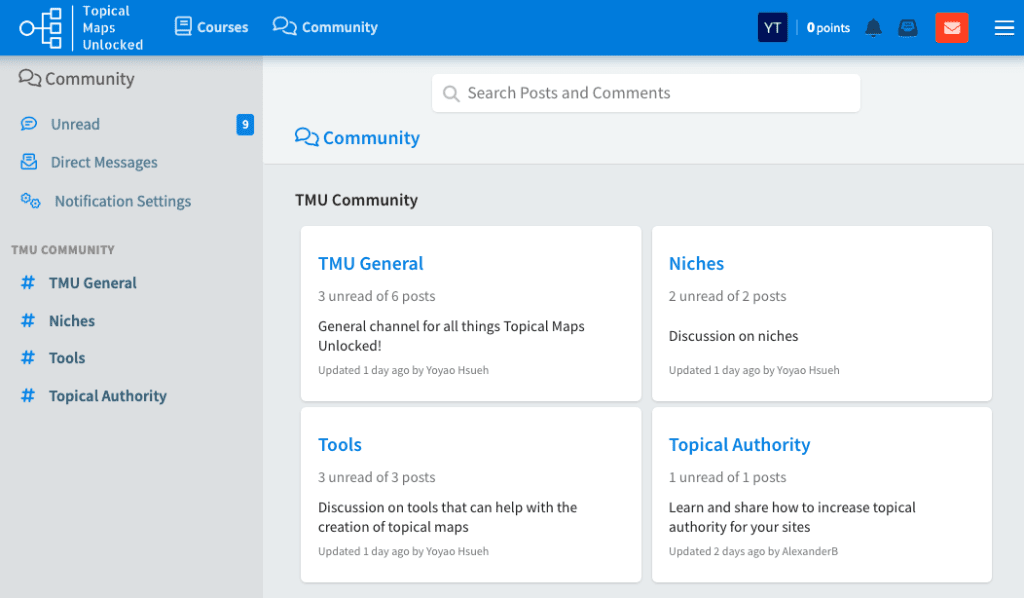 Our private and exclusive community is the perfect place to connect with other students, share your experiences, and get support as you learn.
I am there every day to support all the students and help them succeed.
The thriving community is made of marketers, SEO specialists, and content creators who are all working towards the same goal – to create effective and engaging topical maps.
You can ask questions, get feedback, and learn from me and others as you progress through the course.
Sign up for Topical Maps Unlocked today and become a part of the community that is dedicated to unlocking the full potential of your content and SEO!
Who Is the COurse for
Beginner SEOs – For those who are new to SEO, TMU starts from the basics and builds up to more advanced concepts. The course is designed to be accessible and easy to follow, with clear explanations and hands-on exercises to help you learn and apply the material.
Advanced SEOs – Refine your topical and keyword research skills, learn new techniques, and stay up-to-date with the latest best practices in topical mapping.
Digital Marketing Agencies – Create and use topical maps to help clients improve their search engine rankings, increase engagement and conversions.
SaaS Owners – Optimize your SEO strategy and drive more traffic and leads to your software site.
E-commerce Business Owners – Establish your brand as a topical authority in your industry, improve the visibility of their product pages and categories, increase traffic, and boost sales.
Anyone with a Website – Whether you're an individual with a personal blog or a business owner with a website, TMU is designed to help you improve the visibility and performance of your online content.
What you Get
32 Video Lessons – $999
Spreadsheet Templates and Tools – $199
Private Community – $299
Instant + Lifetime Access
+ Exclusive TMU Student Discounts!

Total Value = $1497+
Get Everything for: $1497+ $397
No annual fees

for continued course and community access
!
Faqs
Not at all!
But that's what those tools and low-cost topical map providers want you to think.
What clustering tools give you is a list of topics. That's not a topical map, just a list of keywords and topics.
Topical maps should include a topical hierarchy that organizes all your topics, and influences your site structure, architecture, and internal linking.
No, topical authority is a different strategy than low-competition keywords. Although, topical maps will include low-competition keywords too.
The topical authority strategy aims to create sites that show search engines and users that the site has expertise in any given topic. The goal of topical authority is to fully cover any topic, so users don't need to leave your site to look for answers. Google and other search engines prefer to go to these authority sites for search queries.
The low-competition keyword strategy aims to only focus on low-hanging keywords that have very little competition in the SERPs. These keywords are usually not focused in any one topic, so sites are building little topical authority. They are relying on more authoritative sites not going after the same keywords. Once larger or older sites write content for the same low-competition keywords, the smaller or newer site will get pushed further down rankings and lose traffic.
Yes! You can definitely use a topical map on existing sites, even if you already have 200 posts on your site. 
We have had many clients come to us asking the exact same question. The current site is doing well, but not as well as the client wants, so they want to build out the topical authority on the site. But they don't know how to do that and what they're missing.
A topical map and a content audit are exactly what you need.
Create a topical map based on your niche.
At the same time, see what site pages are currently ranking and what topics/queries they're ranking for.
Audit the content and internal links for their roles in the topic clusters from the new map.

What are the search queries and topics that are on the topical map? Is the content being cannibalized and ranking in the right clusters? Are the internal links strategically placed?

Create a blueprint for changes including optimizing current content, new content, and internal links.
You now have your site structure and content plan based on the topical map.
There are some who ask "Why not audit the current content first and create a topical map for it?"
The problem with this is you don't have a clear idea of the topics you need to create the topical authority you want. You won't know where your topic gaps are.
It's best to have the topical map first and then start comparing your current content to what the search engines think will make you the topical authority.
The course is tailored to be able to make comprehensive topical maps without any expensive tools that cost hundreds per month.
The only costs that are necessary are a keyword clustering tool and your time.
Many people will use tools such as Ahrefs or Semrush, but they are expensive and actually slow down the process. This course will show you why those expensive tools don't offer the value when creating topical maps.
There are 32 video lessons that are in the course with 12+ hours of total watch time.
The most time you'll need to spend is researching topics/keywords and creating the topical maps.
Absolutely! There's the private community that I and many other students are active in. I frequent the community forums to answer questions to the TMU students.
After signing up for Topical Maps Unlocked, you'll immediately gain access to a wealth of information, including video lessons, presentations, and over-the-shoulder videos. You'll also have access to a private and exclusive community of students who are dedicated to mastering the art of topical mapping, increasing topical authority, and improving their overall SEO strategy skills.
Due to the comprehensive nature of the course, we do not offer refunds for Topical Maps Unlocked. By enrolling, you're committing to investing in your education and learning the skills necessary to create effective and engaging topical maps.
Absolutely! I'm always on the lookout for the latest and greatest in topical mapping and SEO, and I want to make sure my students are too! That's why I'm dedicated to updating the Topical Maps Unlocked course regularly with fresh, up-to-date videos, and replacing any old videos that are no longer relevant with the newest methods and techniques.
Join me on a never-ending journey of exploration and discovery in the world of topical mapping and SEO. I'll be your guide, sharing all my insider knowledge and expertise on how to create amazing topical maps that drive real results for your site. Let's do this!